Total Auction Evert Diepeveen

艾弗特.迪普芬清棚拍卖
Finished
:
24-09-2023 16:00
Now the final end of the champion loft: Evert Diepeveen, Keldonk.
–> NATIONAL VITESSE CHAMPION & 14x SECTIONAL CHAMPION IN HIS CAREER!
ALSO BEST FANCY IN THE NETHERLANDS AT TBOTB!!!
FOR RESULTS AND CHAMPIONSHIPS OF PAST YEARS SEE:
Now that the 2023 season has come to an end, it will also mean the definitive end to his pigeon career. At the end of 2021 he sold his entire racing team and will then fly with a limited number of the Young Pigeons flights, but to still be 100% committed to it. you can't go meer, it is enough, so as said, the final end and that is why all his breeding pigeons and young pigeons will be for sale in 2023!
From Sunday September 17 at www.gps-auctions.com all pigeons will be for sale, with children and grandchildren: "Super 01", progenitor and himself 18x 1:100, "Gilbert", 1. Nat. Ace Pigeon Allround WHZB / TBOTB 2011. "Kittel", 2. Nat. Ace pigeon sprint.
TOP REFERENCE OF 2023: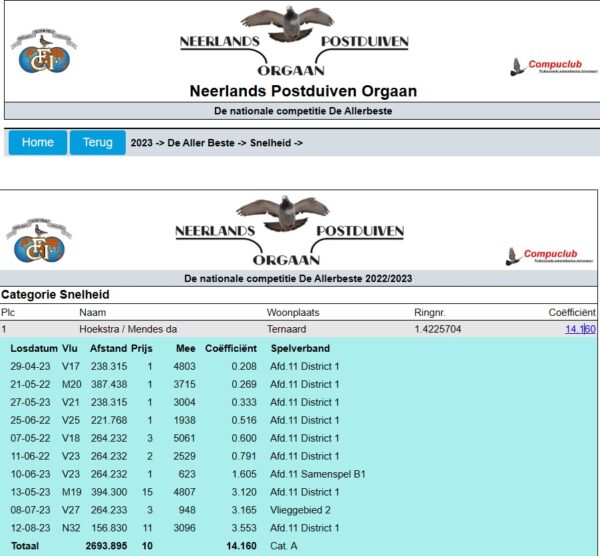 bred from a daughter of the "SUPER 01" x "Dtr. Olympic Nicole"
FOR SALE –> THE "LOFT ON WHICH EVERYTHING WAS WON"
P & P. ​​Meranti loft…. –> Size: 21 meters long and 2,50 meters deep with 76 Kipshagen breeding boxes with slats, underfloor heating, Sputniks and outdoor runs. (Can also be divided into 2 parts of +/- 10 meters).
Meer information call: 06-53327497

冠军鸽舍终于不得不结束赛鸽生涯: 艾弗特.迪普芬, 科尔栋克
–>全国速度最佳鸽舍冠军 & 14次获得赛区最佳鸽舍冠军!
如今2023赛季已经结束,这也意味着他的赛鸽生涯彻底结束。2021年底,他卖掉了整个赛鸽团队,只留了一些幼鸽继续参加比赛,但是他感觉自己不可能再百分之百的付出了,所以经过深思熟虑还是决定今年要出售所有的种鸽和幼鸽。
拍卖将于9月17日星期日 在 www.gps-auctions.com 开始。拍卖包括基础种鸽 以下基础种鸽的子代和孙代:"超级01"获得18次冠军, "吉伯特", 2011年WHZB / TBOTB全国全能鸽王冠军. "基特尔", 全国速度鸽王亚军。
2023年顶级成绩: